NAWEA/WindTech 2024
October 28, 2024

-

November 2, 2024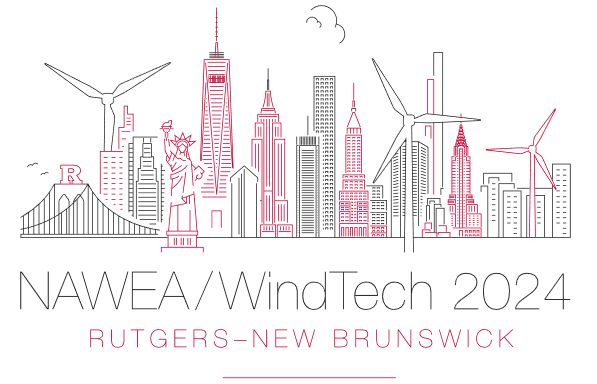 Please mark your calendars for the NAWEA/WindTech 2024 Conference, the premier technical event on wind energy in North America, hosted by Rutgers University and the New Jersey Academic Alliance for Offshore Wind (A2OSW)!
The A2OSW is collaborative group of New Jersey universities and colleges consisting of (in alphabetical order): Atlantic Cape Community College, Monmouth University, Montclair State University, New Jersey Institute of Technology (NJIT), Princeton, Rowan University, Rutgers University, Stevens Institute of Technology, and Stockton University.
The all–inclusive event period is Oct. 28 (Mon) – Nov. 2 (Sat), 2024. The main conference, NAWEA/WindTech, will take place Oct. 30 – Nov. 1, at the Hyatt Regency in New Brunswick, NJ. Side events will be on the nearby Rutgers–New Brunswick campus. Side events include: Software workshops hosted by NREL(e.g., OpenFAST, WOMBAT, HOPP, FLORIS, etc.), a Graduate Student Symposium, and meetings for IEA, NAWEA, and others .
Exciting Events: (1) Our conference overlaps with ACP Offshore Wind Power Conference (in Atlantic City, NJ) on Oct. 30 – this gives travelers an invaluable opportunity to attend both events  the same week!! (2) Like running? The NYC Marathon will be on the Sunday after the Conference (Nov. 3). (3) Trick or Treat? One of the best parades of NYC, the Halloween Parade, will be on Oct. 31.
New Brunswick is easily accessible to New York City, and boasts amenities including the New Brunswick Performing Arts Center, State Theatre New Jersey, Zimmerli Art Museum, and shopping on George Street. It is served by four major airports (EWR, LGA, JFK, and PHL), and trains to Philadelphia, Boston, D.C., and other East Coast cities. The central New Jersey region offers unprecedented proximity to industry, government labs, and scholars. New York City is only a one-hour train ride away.
New Jersey is a vital hub for offshore wind activity. Projects include New Jersey Wind Port, the Nation's first purpose-built offshore wind marshaling point which is expected to support up to $500 million in new economic activity; the Wind Institute for Innovation and Training; Offshore Wind Research and Monitoring Initiative;  the Rutgers Offshore Wind Energy Collaborative; Rutgers Center for Ocean Observing Leadership; Rutgers Climate and Energy Institute; and much more.
Please subscribe to the NAWEA email list for notifications about this conference including deadline reminders, agenda updates, and more. Critical dates and information will be posted on the NAWEA website.
Rutgers, The State University of New Jersey, is the third-largest public university by enrollment, with 175 academic departments and 300 centers and institutes comprising New Jersey's most extensive and diversified network of research libraries. Rutgers–New Brunswick is the nation's #15 top public university, a Big Ten Academic Alliance member, New Jersey's land-grant institution with a research portfolio of $940 million across STEM, the humanities, and the arts;  – a richly diverse and interdisciplinary community.