Rutgers Offshore Wind Symposium
January 12 @ 8:30 am

-

4:00 pm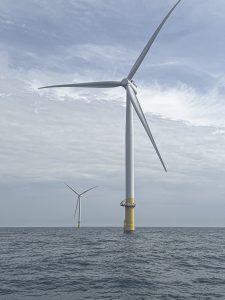 January 12, 2023




Richard Weeks Hall of Engineering




Rutgers University – Busch Campus




8:30 am to 4:00 pm
Registration is now closed. 
Thank you for joining us at the Rutgers University Offshore Wind Energy Symposium. Please click here for the presentations and related articles.
Get swept up in offshore wind! Join us for a day of collaboration among Rutgers faculty and students, industry and government leaders to discuss challenges, identify opportunities, and build community in offshore wind energy at Rutgers, the state and region.
The Symposium aims to:
Welcome practitioners and specialists from academic, nonprofit, and government organizations to share insights, challenges, solutions, and planning.
Facilitate networking and cross-fertilization of ideas, resources, and opportunities.
Build the collective skills and capacity NJ's Offshore Wind Energy workforce.
Jumpstart development of an NJ Offshore Wind Energy learning and networking community.
The agenda includes:
Welcome from Margaret Brennan-Tonetta, Senior Associate Director, NJAES; Michael Zwick, Senior Vice President for Research at Rutgers University; and Senator Bob Smith, Chair of the New Jersey Senate Environment and Energy Committee
Inspiring keynote presentation from Kris Ohleth, Director, Special Initiative on Offshore Wind
"Lightning talks" where you will hear research highlights from over 20 Rutgers faculty and partners on their innovative offshore wind energy projects.
"World Café" discussions where you will work in small groups to examine challenges, identify research and workforce development opportunities, and build relationships.
A Wind Institute Fellows poster session that showcases current offshore wind energy student research
Register by January 5, 2023 for this space-limited program. If you are unable to attend in-person, the keynote presentation and lightning talks will be recorded and made available online at no charge after the event concludes.
Rutgers Offshore Wind Energy Symposium is hosted by the Rutgers Offshore Wind Energy Collaborative to provide a forum for industry, government, and academic leaders to discuss challenges, collaborate on solutions, and build community engagement. This event is made possible with funding from the New Jersey Economic Development Authority. Logistical support for the Symposium is provided by the Rutgers Division of Continuing Studies.
Photo and Video Release
Rutgers will videotape the day's events to capture images and sounds of lifelong learners in action. By registering to participate in this public learning space, you agree to provide Rutgers permission to record your image and/or voice and to provide all rights for Rutgers to use those images and recordings for educational, promotional, or other purposes that support the mission of Rutgers, The State University of New Jersey.
Agenda
WiFi
There is free Wi-Fi under "RUWireless." For Non-Rutgers attendees, please select "I want Guest Internet Access." Click here for detailed instructions.
Directions
The Richard Weeks Hall of Engineering is located at 500 Bartholomew Road in Piscataway, New Jersey and is located on the Busch Campus. Google Maps Directions
For Non-Rutgers attendees, please see "Parking Information" below for information on how to register your vehicle.
For Rutgers students, faculty, and staff, you will be able to park in these lots without registering for parking.
Click here for an overview map that shows the Richard Weeks Hall of Engineering and the adjacent Parking Lots 51, 51B, and 54.
Public Transportation
Parking Information
For Non-Rutgers Attendees: Event Parking in Lots 51, 51B, and 54 adjacent to the Richard Weeks Hall of Engineering has been established for Non-Rutgers attendees. Please use the following link to register your vehicle if you do not have any affiliation with Rutgers (NOTE: A confirmation only appears on the screen once you have registered your vehicle. No email is sent. You do

not

need a parking pass to display – your license plate will be added to the system.) Parking Registration for Non-Rutgers Attendees
For Rutgers Attendees: If you are a Rutgers student, faculty or staff located on- or off-campus and your vehicle is already registered with Rutgers Parking and Transportation Services, you will be able to park in Lots 51, 51B and 54. Please do

not

register for parking.
Questions?